Choosing the right accountant
To find the best accountant, you need to ask the right questions. What is the best way to find the right accountant? First, you should ask what services they offer. You should look to see if they have experience in your field. Once you have found that, you should ask what their fees are. Finally, you should ask what they can do for you. Be careful when choosing an accountant that they have experience with barrister accounts.
Why is it important to hire a firm of accountants?
Before you choose your barrister accountant it is important to realize that the tax industry is very dynamic in nature. Tax matters do change every year There is at least one Finance Act each year.
This means that what a barrister may claim for expenses or input VAT in previous tax years may or may not be acceptable in future tax years. . This is why you need to hire a barrister tax expert who has in-depth knowledge of tax compliance.
Do you want an accountant who operates by themselves and perhaps does not have the time to keep to date with the latest changes in legislation? Or do you want a long-established firm, that ensures the staff undertake continuous professional development?
A firm of accountants will have a dedicated team who specialise in the accounting requirements of Barristers.
Barrister.expert is a trading style of Jack Ross Chartered Accountants who have been established for over 70 years.
Why is it important to choose a qualified chartered accountant?
Unlike 'solicitor' or 'barrister', 'accountant' is not a protected name. Anyone can call themselves an accountant and they do not need to possess any qualifications, nor do they need to demonstrate any experience as accountants.
A qualified accountant is someone who is a member of a professional body. In England and Wales, the most prestigious accounting body is the Institute of Chartered Accounts. The members are allowed to call themselves Chartered Accountants, and they use the designation ACA. If they have significant experience, they become Fellows of the Institute and have the designation FCA.
A chartered accountant abides by professional standards and is subject to regulation. Therefore as a barrister, you can have trust when you engage a Chartered Accountant that you are hiring a fellow professional who, like you, works to the highest ethical and professional standards.
Trust
You need to have trust in your accountant. We have been established for over 70 years, and in the last 40 years, we have advised hundreds of barristers across the UK.
See this link – https://barrister.expert/testimonials/ – for video testimonials from some of our distinguished barrister clients.
Our barrister clients trust us implicitly.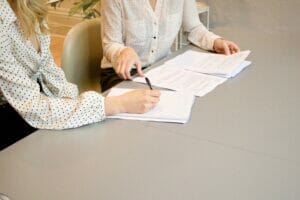 How can a qualified firm of expert accountants help you avoid mistakes?
A good firm of accountants can help barristers in three ways:
1. By having robust review procedures in house
2. By communicating mistakes quickly to avoid repetition.
3. By keeping up to date with the latest accounting and tax treatment
What services do accountants for barristers provide?
Specialist Accountants should be able to provide you with lifelong financial advice. At Barrister.expert we can help new pupils who are on their feet with their first VAT returns and tax returns.
What are some red flags that you should look for?
An accountant should be forthcoming about their charges. And If the quote is too good to be true then there is really probably something amiss in the background. You may be tempted to go for the cheapest quote, but very often that leads to poor service which inevitably costs you time.
Be wary if the accountant is not qualified. If they make a mistake, you may receive penalties and interest costs from HMRC. If they are an unqualified accountant, there isn't a professional body for you to complain to.
We are transparent with our fees and you only pay for the services that you use. Our fees reflect the professionalism and quality of the service that we provide to our barrister clients.
What should your accountant be doing?
The right accountant should be doing the following to ensure a high level of service.
Be proactive. For example, you should receive regular newsletters and briefings of tax changes.
Communicate. Your accountant should communicate and respond to your calls and emails. Even if the response is "I will come back to you next week", you should work with an accountant who will communicate with you.
Tax advice: Your accountant should be able to offer you tax advice, such as pension planning, or how to finance your personal motor car for the greatest benefit.
Summary
Make sure you choose the right qualified firm of accountants. That way you will have peace of mind so you can concentrate on building a profitable practice.